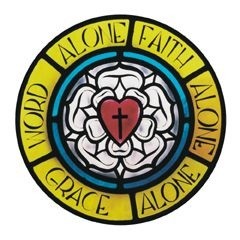 St.
John's Lutheran Church is a Christ-centered
member of the Lutheran Church, Missouri Synod.
Our mission is t
o invite our community to grow in faith in God and to work together for healing and
transformation in Jesus' name.

Our congregation is diverse. Here you can find a truck driver, a nuclear engineer, a bookkeeper, an egg rancher, homemakers, a forester, a legal secretary, a jet pilot, a caterer, a machinist, a transit driver, a nurse,

an attorney

, and a submariner. We have been in Clearlake, California for over fifty years. The History tab has photos and a brief history of our church.
Our congregation is presently being served by the Rev. Robert C. Rowland II. Pastor Rowland lives in Richmond, California, and commutes with his son each Sunday to Clearlake. He has been serving St. John's since September 2018, and we expect him to continue to serve until arrangements are made to call a pastor who can live with the congregation in Clearlake.
Robert, the first of three children of Robert and Anita (nee Gorske), was born in Mt. Clemens, Michigan, on September 10, 1946. He and his family resided primarily in Southern Michigan. After graduating from high school in Allen Park, Michigan, Robert worked a series of odd jobs while attending college and seminary. He was employed as a janitor, a night watchman, and a shipping clerk at a Detroit printing company.

Active in Church work, Robert attended a Walther League Youth Camp in the summer of 1962, where he met a fellow camper, Sheryl Lee Warthen of Pleasant Ridge, Michigan. Four years later Robert and Sheryl were married, and they settled in suburban Downriver Detroit. They have three children, Rebecca (July 29, 1968), James (November 22, 1977), and John (May 24, 1979).
Both Robert and Sheryl worked full time jobs while Robert went to school. In June 1970 Robert graduated from Michigan Lutheran College in Detroit. The Rowlands relocated to Springfield, Illinois, where Robert began ministerial studies at the Concordia Theological Seminary. He served his vicarage at the Lutheran Church of Our Redeemer in Kokomo, Indiana, in 1973, and graduated from the Seminary in the spring of 1974 with a Master of Divinity Degree.
Pastor Rowland's first call was a split position serving half time as Missionary at Large in Deaf Ministry in Central Illinois and half time as Director of Media Instruction at the Concordia Theological Seminary in Springfield. When the Seminary moved to Fort Wayne, Indiana, in 1976, the Rowlands followed, and Pastor Rowland continued his media position while also serving St. John's Lutheran Church for the Deaf in Fort Wayne. In 1978 Pastor Rowland accepted a call to a dual parish in Eastern Colorado, and the Rowlands moved to Flagler, Colorado. Pastor Rowland served Zion Lutheran Church as well as Immanuel Lutheran in Arriba. In 1980 Pastor Rowland was called by the California-Nevada-Hawaii District to serve as Missionary at Large in Deaf Ministry for the District. This ministry continued until 2001, when the District phased out the position. During this time Pastor Rowland also taught classes in religious ethics and American Sign Language at the Sacramento Lutheran High School. After his deaf ministry Pastor Rowland trained for interim ministry and provided pulpit supply until January 2003, when Our Savior Lutheran Church in Pinole, California called him as Pastor. He served Our Savior for 13 years. During this time his wife, Sheryl, passed away.
On January 31, 2016, Pastor Rowland retired from full time ministry. However, like many retired clergyman, God apparently still had more work for him to do. Late in August 2018 he was contacted by St. John's and asked if he might be available to preach a couple of Sundays in September. Thus his service at St. John's began.